Whether you are a competitive biker, part of a training team, or just enjoying a leisurely bike ride, safety should always be the top priority. Before leaving home, you should always make sure that your bike is in good working condition. Your brakes should work effortlessly and the bike tires should be optimally filled; you should always have a portable air pump with you.
Equally as important is safety. You should never leave home without the right clothing, helmet, and the proper lights to let motorists and other bikers know you are on the road. Some bikers have lights on their helmets, which is a great option for evening cycling. Your bike should also have lights, especially on the tires, which are easier to spot for those sharing the road.
Different Types of Bike Lights:
Having a light on your bike is as important as having brakes. It will alert other cyclists, pedestrians, and drivers that you are sharing the roadways. Avid cyclists would never think of getting on their bike for an evening or night ride without having a light on their bike or reflective clothing.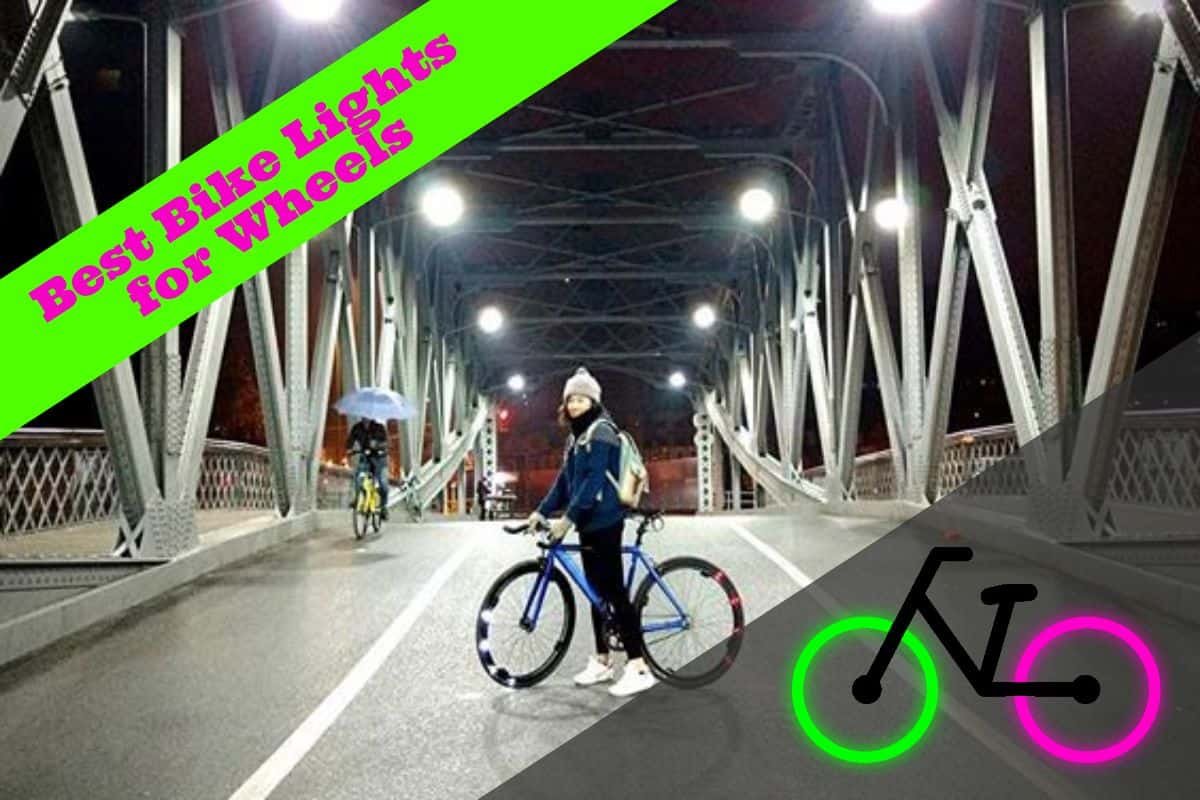 There are numerous different types of cycling lights to choose from at many different price points. Many prefer to use wheel lights as they put off a lot of light and are easy to spot on the road.
There are many different types of cycle lights, here are some options that you may consider:
Handlebar headlights: Wakeman Outdoors make a versatile option that attaches to the bike's front handlebar, it can also detach the light to use as a handheld flashlight.
Front and backlight: Bell Meteor makes a 200-light set that has a white light for the front and red light for the back. It has a 20-lumen front light and can be seen up to 64 feet with a battery life of up ten hours. The red taillight has four lumens and a battery light up to 18.5 hours.
Helmet lights: Helmet lights are very handy as some of them can be put on and removed when needed. The Greerride Rechargeable bike helmet has steady and flashing options. They are easily put on the helmet with two straps.
Wheel lights: There are many different wheel lights on the market in a variety of different colors. They are typically easy to install and very popular among those that enjoy night riding.
Wheel Lights:
Some of the most popular lights on the market are wheel lights. They are very efficient in showing others where you are and can be used on front or back wheels, or both. This enables drfvers and pedestrians to see the cyclist from further away andnot only lights the path in front of the cyclist but alerts drivers.
According to Cyclisthub.com, there are many good wheel light options on the market. Here are some pros and cons for several different options currently available. Here are some good options:
Activ Life Bike Wheel Lights: 
Activ Life wheel lights come in a package with 21 separate LED lights. You can attach them to each spoke for a full-circle effect, which kids love.
They come in red, green blue as well as multi-colored. They run on three AAA batteries.
For those that want to highlight both wheels, you would need to buy two sets. They are waterproof and easy to install though some said that it may take up to 10 minutes to install on each wheel.
Monkey Letric Bike Wheel Lights:
This is one of the most popular brands of wheel lights. They are unique because they have a variety of colors and 40 lumens. They need three AA batteries, but also have an upgraded option that comes with a rechargeable battery.
Monkey Letric bike lights are completely waterproof and work best on 16-inch wheels or larger. The only negative is that for the lights to complete a large circle, the cyclist needs to ride very fast, so some purchase two lights for each wheel.
Monkey Lectric lights are fully waterproof, so you don't have to worry about riding them in the rain.
They are ideal for wheels with a diameter of 16″ and larger.
Their major disadvantage is that you have to ride fast or use two lights for one wheel to get the full-circle light effect. If you want to use these lights on 29″ wheels, I recommend buying two lights for each wheel. They are easy to install and provide random patterns.
DAWAY Valve Bike Wheel Lights:
These lights are easy to install by just screwing them into the tire valve. They are sold in sets of two, so one set will cover both bike wheels. The most innovative thing about these lights is that they have 15 different patterns, which make the bike easy to see.
These are also waterproof for those that find themselves cycling in the rain. Two issues are that the batteries have comparatively short battery life and the cyclist must go relatively fast to get the full pattern effects.
DAWAY Bike Wheel Rechargeable Lights:
These are considered to be the best hub lights. With these lights, you can bike at any speed and have the hub fully lit. They offer a full-circle effect even at low speeds. They fit up to 30mm diameter hubs making them good for a variety of bikes.
They come in seven different colors; lights for both front and back wheels are included in one package. The lights have 16 flash and steady modes. The hub lights come with a USB Li-ion battery and are easy to install. The only issue is that the light can appear somewhat dim, so cyclists will need to ensure that they put out enough light for their needs.
If you are an avid cyclist and looking for some options to illuminate your ride, be sure to check out all the different options. In many cases, cyclists pair wheel lights with a helmet light or handlebar lights.