Mountain bike lights are essential for riders anytime in the evening or in the middle of the night. Be sure to have the best mountain bike lights for your specific needs to keep you safe and follow any rules and regulations posted in the area.
Anyone currently wondering which are the best mountain bike lights should keep reading to find out more details about the top options.
Best Mountain Bike Light Options
Here are several top-rated and most popular mountain bike lights available on the market. Consider a few aspects of each to determine the best choice for your budget, writing style, and feature requirements.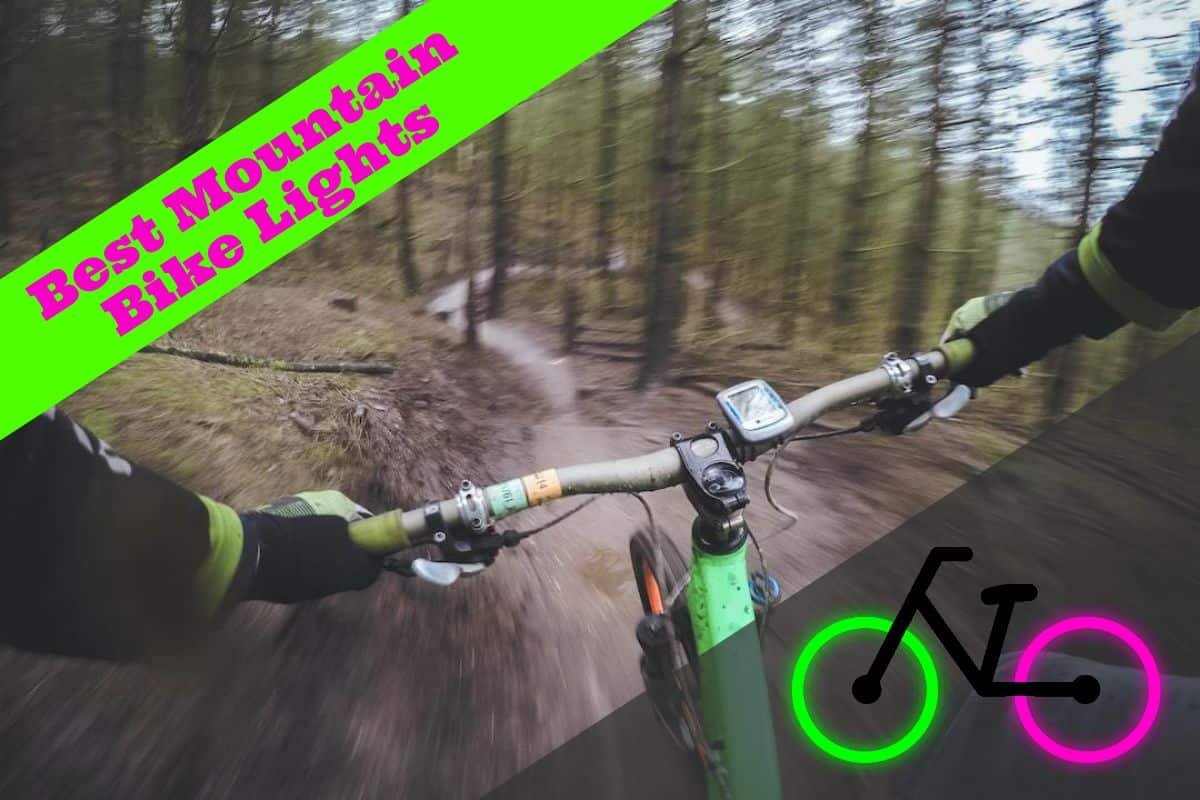 Some features available for some models include a spotlight or a flood-style light beam. Some have longer charge cables and batteries that can hold a charge for a long time in case you find yourself outside for the entire night and need reliable light to keep you on the trail and safe.
Exposure Six Pack MK12
This model is one of the top choices in this article and gets top reviews from most people who have bought and used it in the elements. It has a medium price range at around $600 on most retail sites online. The maximum lumen output for this light is 5,250, which is significantly more than the recommended base of lumens, around 1500 lumens. It's also lightweight and features screws that attach to the bike's handlebars to keep it securely in place.
This light also has a brilliant light-adjusting feature called the Reflex ++ mode. This feature senses the terrain and automatically adjusts the lighting to provide optimal viewing of the terrain while you are in motion. It has a wide spread of light to give the most visibility via an LED light.
$600 price point
5,250 lumens
Reflex ++
Secure mounting
Wide LED light spread
This option is excellent for novice and advanced-level mountain bikers looking for a reliable and effective way to light the path while biking at night.
Magicshine Monteer 8000S Galaxy V2.0
This model has it all and can provide a better night mountain biking experience. One great feature of this versatile mountain bike light is the price point. It offers many advanced features for a great price at around $400 on most online retail sites and perhaps slightly more at a local specialty shop.
The lumens for this bike are a whopping 8,000 and can last for over one and one-half hours in constant use. This model is an ideal light for people using difficult trails that require attention to terrain and careful navigation. This is a focused style beam, but it also provides adequate peripheral lighting, so you don't miss important landscape details while on the trail.
This light also features a Bluetooth remote control and 30 different modes. The settings can alter the light's battery life from around 30+ hours to as little as one and a half hours when it's set to 8,000 lumens.
$400 price point
8,000 lumens
Focused beam with peripheral vision
Remote control with 30 modes
Long battery life
This light is ideal for those mountain bike riders needing a reliable and strong light for more technical rides. Make sure to have it secured well to the bike using some components you may need to buy separately.
Gemini Titan 4000
This may be a great fit if you're on a budget and want some great features for your mountain bike riding excursions. This model is affordable at around $350 online through large retailers. It has a great battery life and an impressive 4,000 lumens. One particular feature of light that is especially compelling is the spread of light.
It gives you a broad light scatter that allows you to see everything around you easily. For the price, it provides exceptional functionality and plenty of run time at around two and one-half hours at maximum brightness. It's also relatively lightweight and can easily attach to handlebars using straps, ties, or clips.
$350 price point
4,000 lumens
Long run time
Light
Great light spread
This is an excellent option for casual riders who want to get the most for their money and still have great functionality.
Gloworm XS Adventure Lightset
Mountainbike riders looking for a light that offers versatility and extra bells and whistles for various riding styles and conditions will love this bike light. It can be mounted onto the bike or on your head, so you can choose to direct the light spread with your vision or the direction of your bike.
It offers a moderate light intensity at 2,800 lumens and costs around $400 on many online retail sites. You can easily replace the lenses of the light to change the angle and position of the light. There's the spotlight, honeycomb, and the spread of light. You'll also get two cables to use with the light.
One is longer to use if you want the helmet light. There's a shorter cable for the bike mount. A mounting feature ensures it's attached firmly to the bars for stability. It's the perfect option for people who want more options for use and different light spreads for various situations, and it has a cell phone app to help you choose multiple modes and o features on the bike light.
$400 price point
2,800 lumens
Multiple lenses
Strong light spread
Helmet or bike mounted
Two cables
Stable bar mount
Phone app
This is a great option for mountain bikers of all skill levels who want more features and various options for light direction and usage.
Summary
These top-rated and tested mountain bike lights are favorites of enthusiasts and reviewers everywhere. These options cover many facets of benefits and usage, including budget and lighting options. Although some may have a higher price point, the more budget-friendly bike lights can also offer plenty of useful benefits. Consider the benefits of each and determine which features matter most and help keep you safe and allow you to navigate the trails and terrain you love safely.