In the fall and winter, when the days are shorter and darker, bike lights are an absolute must. Not only do they keep cyclists safe and seen in conditions with poor visibility, they can also extend the amount of rideable hours in the day. Since I hate fooling with batteries, I checked out the best rechargeable bike lights for night riding
What to Look For
There is no need to give up your early morning or evening rides simply because the days are becoming shorter because a strong front light will illuminate even the darkest of roads, tracks, and trails.
Any good bike light should be visible in broad daylight, have multiple beam modes, be simple to install and remove from the bike, and be completely waterproof.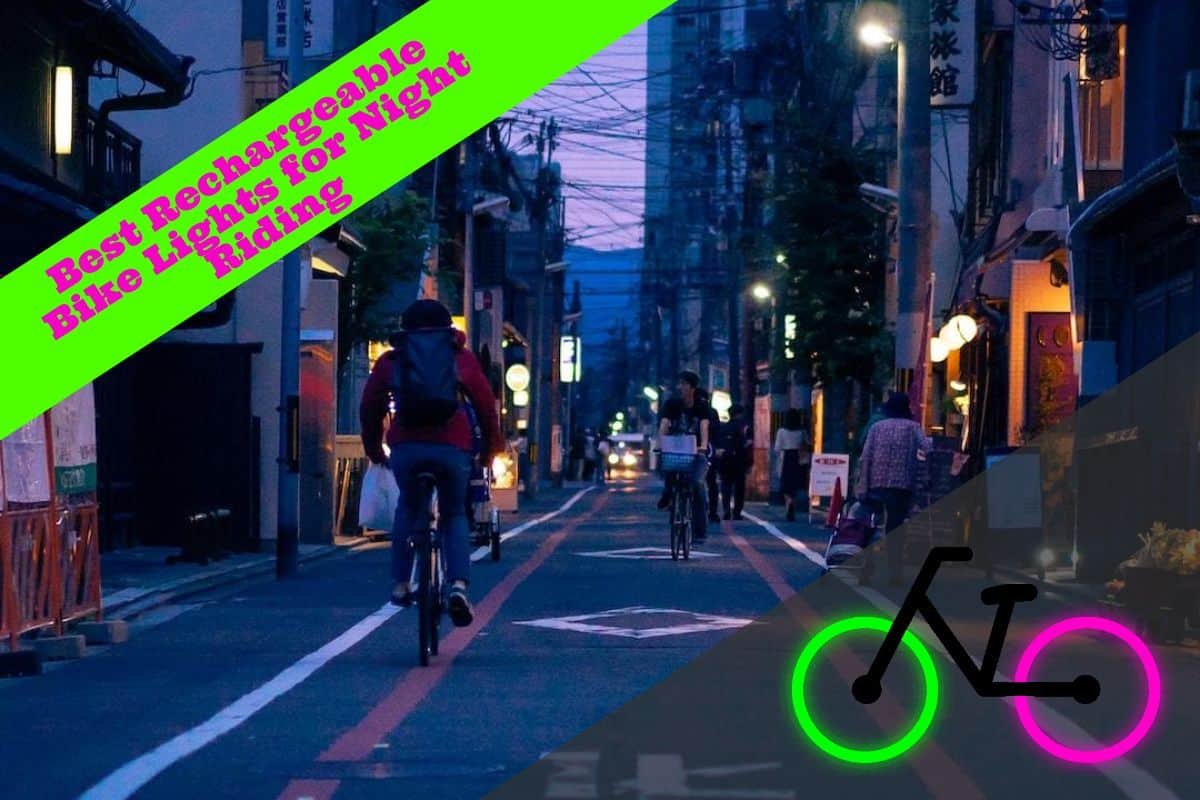 In addition to this, some bike lights come with a plethora of other capabilities. Some of the best bicycle lights have innovative additions like connectivity with head-units (so you can change settings while riding), rear radars, and even cameras.
There is no substitute for actually using a bike light in the dark to determine how well it performs. So, we did just that to bring you our curated collection of the finest bike lights, keeping in mind factors such as runtime, luminosity, build quality, performance, and cost.
Some of the featured lights have been tried out in recent weeks and months, while others have been put through their paces over years of nighttime commuting. What's more important is that each of the lights discussed below is among the best in its category. Find out which ones sparkled the most below.
Th Best Rechargeable Bike Lights for Night Riding
Lezyne lite drive 1000xl
The Lezyne lite drive 1000xl is our favorite evening front light. This well-built, compact item is easy to connect and remove from the handlebars to charge. If your bike has aero bars, you can replace the strap with a GoPro mount.
The battery lasts up to 87 hours on low or 1.5 hours at full power (1,000 lumens steady beam). "Enduro" mode produced 250 lumens for six hours.
Features include:
Lumens: Up to 1,000
Battery: USB rechargeable
Battery life: 1.5 hours for 1,000 lumens, 87 hours at15 lumens
Garmin Varia UT800
With the Garmin, you can ride your bike on the street or the path whenever you like, not just during daylight hours, because the Varia UT800 is bright enough to meet all your illumination needs. When paired with certain Edge cycling computers, the UT800 enables an intriguing automatic lighting feature.
It automatically adjusts brightness up to 800 lumens depending on the level of surrounding light. This means that the battery will last longer, and that the device can be used without the user having to physically manipulate it.
Choose from five distinct lighting options to personalize the UT800's output regardless of whether you have the Edge head unit. It's one of the brightest mtb lights available and has multiple beam options, making it ideal for riding at night. This adaptable light can be attached to a helmet or a handlebar, depending on the package you buy.
Features include:
Compatible with Edge cycling computers
Automatically adjusts to ambient
800 lumens blast for up to 1.5 hours
Five light modes; high, medium, low, day flash and night flash
NiteRider Pro 1400
Cyclists can get a high-quality lighting system for less with the Pro 1400 Race front light. Eight-step fuel gauges keep riders informed of battery life. The Pro 1400 is the ideal headlamp for professional athletes and serious enthusiasts.
The rechargeable four-cell battery-powered light head emits 1400 lumens and lasts all night.
This bike light is well-designed and well-made. The handlebar-mounted light is visible in front of the bike stem. Your lighting equipment and supplies can fit in the nylon carrying bag, allowing you to travel confidently.
Features include:
Compact Headlamp with a Powerful 1400 Lumen LED
Rechargeable 4 Cell Battery
Lightweight and compact nylon storage/carrying case
Mounts on handlebars and helmets
Unique lenses made of borofloat glass
Exposure Six Pack mk12
Why be limited by daylight? With a bright enough light, you can enjoy empty routes, hone your abilities, and see local haunts in a new light.
Exposure makes the best high-end bike lights, and the six pack mk12 is its brightest off-road model. It has a built-in OLED display on the back to track settings, charge, and runtime, and incorporates Exposure's "reflex++" technology, which monitors speed and terrain to save power.
Six high-power LEDs produce 5,250 lumens at max output. It's more than enough to illuminate a forest singletrack at night, but it comes at a price… in more ways than one. The Six Pack MK11's price and 386g weight may turn off weight weenies. Still, if you prefer to push yourself and your gear to the edge, this is the light for you.
Features include:
Up to 5250 Lumens
USB rechargeable battery
Battery life between two and 36 hours
Light & Motion Urban 350 Bike Headlight
The Light & Motion Urban 350 is a great nighttime light. This battery-powered light provides 350 lumens for low-light cycling. Innovative amber sidelights boost visibility at crosswalks, where most bicycle-vehicle collisions occur.
The FL1-tested Urban 350 can survive 1-meter concrete drops. It's also IP67 waterproof, so it may be immersed up to 1 meter. Light & Motion created the Urban to endure any conditions since water penetration is the biggest cause of bike light failure. This bike light offers a simple handlebar mount, a colored battery light indication, and a GoPro mount.The Light & Motion Urban 350 is a great nighttime light. This battery-powered light provides 350 lumens for low-light cycling. Innovative amber sidelights boost visibility at crosswalks, where most bicycle-vehicle collisions occur.
Due to restricted light, nighttime riding is more dangerous; you'll need bike night lights that are bright, easy to install, and have a long battery life.