Are you a bike enthusiast in the market for a new bike light? Fasten your seatbelt because, in the recent past, some remarkable improvements have been made in the bike light industry. As a result, there are now more options available than ever, with some of the most expensive bike lights now easily reaching a price tag of four digits.
Manufacturers have taken advantage of technological and engineering advances by increasing the bike light's output while simultaneously its weight. Much of this progress is led by –
The industry's switch to more efficient LED (light-emitting diode) bulbs that generate significantly more light per watt when compared with older versions.
The use of lithium batteries. These types of batteries offer more power but can do so with much less weight.
As you consider your options for a new bike light, remember to focus on the type of riding you intend to do and these essential aspects of bike light buying –
Brightness – Lumens
Bike lights are measured using lumens. The higher the number (or lumen), the brighter the light.  It might help to understand that lumens are to light like gallons are to gasoline.
Battery life
Battery life will depend on the bike light's output level and the battery type used in manufacturing. Riding with the light at 100% brightness will reduce the batter life fastest.
Charging
Most bike lights are now rechargeable using a USB port, so they can be recharged at home or in the car. To minimize your carbon footprint, stay with bike lights that have rechargeable batteries to help reduce waste.
Mr. Safe Bike Light Pair (Front & Rear)
$999
1000 lumens – over 100,000 hours of lamp bead life
Battery – Lithium Ion rechargeable, ultra-powerful battery – with a 3-level indicator
The Mr. Safe Bike Light is a dual light option with two ultra-bright lamp bead units (i.e., front and tail lights), providing light across 600 feet. This bike light from Mr. Safe provides five variable output modes – SOS, low, medium, high, and strobe levels. This waterproof bike light is encased in a high-performance aluminum alloy casing that can handle a rough ride or two. The bike mount allows for 360 degrees of rotation. The bike light also doubles as an LED flashlight when needed.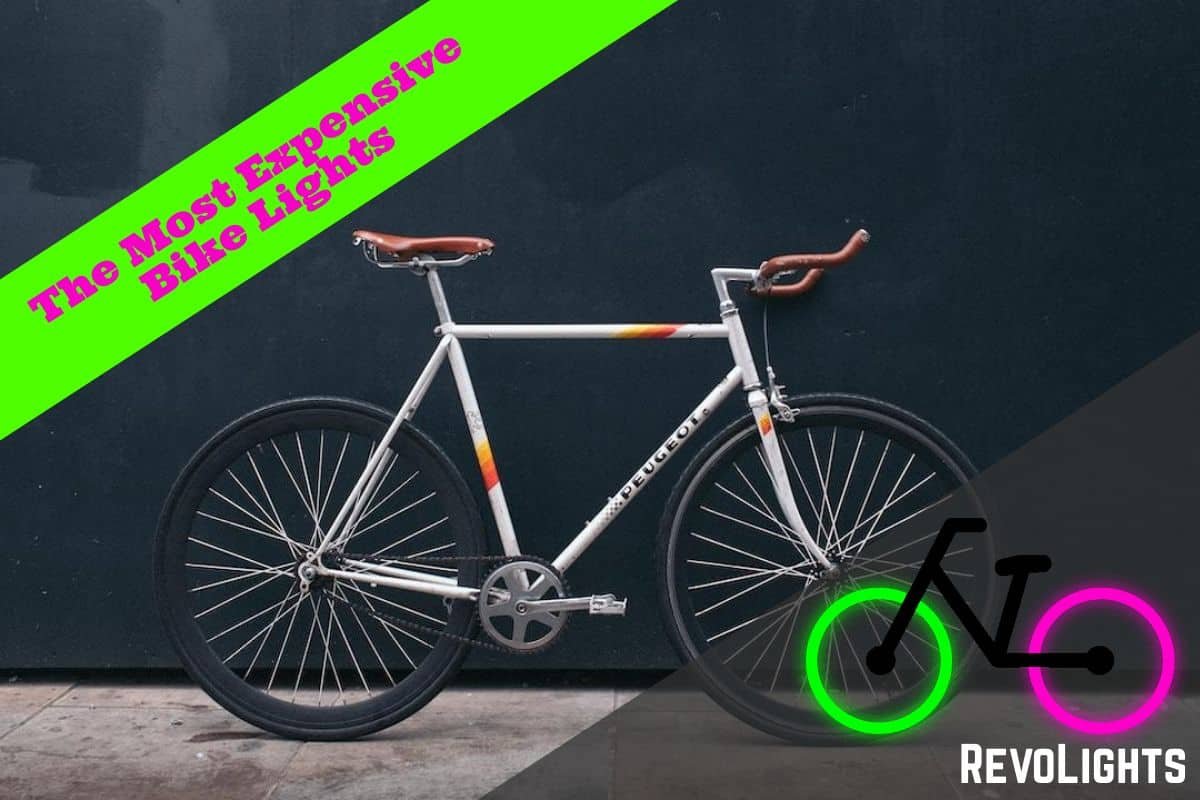 Blacklight's Rechargeable Bike Light
$735.35
700 lumens
Battery – Lithium Ion rechargeable
Blacklight offers a portable bike light that only takes several seconds to install – on the handlebar or the seat's post. This miniature-sized light can also be used as a flashlight when needed. The bike light is manufactured in black and offers 360 degrees of rotation and multiple adjustable angles. There are also five light modes and a quick-release button as well. Blacklight's bike light battery can last up to 20 hours, depending on the light mode selected.
NiteRider Pro 4200 Endure Remote Dual Head MTG Bike Light
$629.99
4200 lumens – with six CREE LED lights
Battery – Lithium Ion, 8-cell, USB rechargeable
The Pro 4200 is manufactured by NiteRider, a company with three decades of experience making self-contained bike lights. This stellar bike light offers seven light modes, including a beacon and SOS signal, flashes, and four steady flashes. This black bike light is water- and dust-resistant and offers an ergonomically-placed remote-control thumb-switch, which allows the rider to keep their hands on the handlebar. The Pro 4200 has a 5-hour charge time and is easily mounted on any bike handlebar.
CHENGGUAN Superbright Bike Light
$567.76
1800 lumens – 2 CREE XM-LX-U2 LEDs
Battery – Lithium Ion, USB rechargeable
The CHENGGUAN Bike Light offers riders an easy-to-use and install super bright double-spot optical bicycle light. This bike light provides a quick release and a user-friendly OLED digital backlight display with important easy-to-find information. CHENGGUAN's bike light has five levels of brightness and a prompt when the battery is on low power.
Exposure Lights' Six Pack MK 11
$492.48
4750 (boost max) – 3600 lumens constant
Battery – High capacity, rechargeable – with an Optimized Mode Run-time Selector (2-36 hours)
Exposure Light's Six-pack MK11 is among the brightest and most intense, and deep-reaching light beams that also include motion sensitivity. Exposure Light's bike light offers serious riders ten operation light-output modes. The OLED display on the Exposure Light's MK11 provides easy access to the current information regarding run time and remaining charge for the battery. Exposure Light has developed reflex technology – a unique bike light feature that automatically adjusts the output of light as the bike speed and trail demands change. This technology helps to minimize overshadowing on challenging terrains.
Magicshine Monteer 8000S Galaxy Waterproof Bike Headlight
$399
4800 lumens – various brightness modes – 5x CREE LEDs
Battery Life-Max Run Time – 32 hours
The Monteer 8000S is manufactured by Magicshine, a worldwide leader in high-performance bike lights designed to keep riders safe in a variety of riding conditions and levels of darkness. This bike light, which is mounted on the handlebar is manufactured in aluminum and offered in two colors (white and black) with a super-fast heat-up time. The Monteer 8000S has three light output settings (spot, full, and flood beams) and a battery pack that offers reverse charging capabilities. The Monteer 8000S Galaxy's remote-control capacity is designed with the rider's safety in mind. Its light distance covers up to 300 meters.
The Take-Away
Bike lights allow the rider to see and to be seen – day or night. They are designed to keep riders safe – whether the rider is trying to navigate darker back roads or stand out against an urban backdrop.
A reliable bike light should be one of the accessories on the shopping list of any bike rider. The most expensive bike lights offer an array of options that meet the needs of serious riders – some are quite cool and offer additional safety features, while others are simply technological marvels.
Either way, staying safe as a bicycle rider now has more options than ever.