Bike lights are crucial, no matter whether you ride for fun, whether you compete in cycling competitions, or ride to explore the neighborhood or to explore the country. Bike lights that are compatible with a Garmin mount provide the ability for you to see, and for motorists and pedestrians to see you, both in the daytime and during the nighttime hours.
Properly mounted bike lights are a critical piece of safety equipment to protect you and other people. Making sure that you have properly mounted bike lights may also help to make sure that you are not among the bike crash statistics, which included 938 bicyclists killed in 2020. Garmin is a top name in the cycling world, for the casual and the competitive rider. Do you have a Garmin mount and need a light that is compatible with a Garmin mount? These bike lights are compatible with a Garmin mount. We like each of these lights for different reasons, and offer an explanation for each one in the individual descriptions.
Garmin Varia Smart Bike Lights
The Garmin Varia Bike Lights include new models that you can get right now. Do you still have your favorite Varia light and worry about getting a new one? No worries about upgrading to the newer models.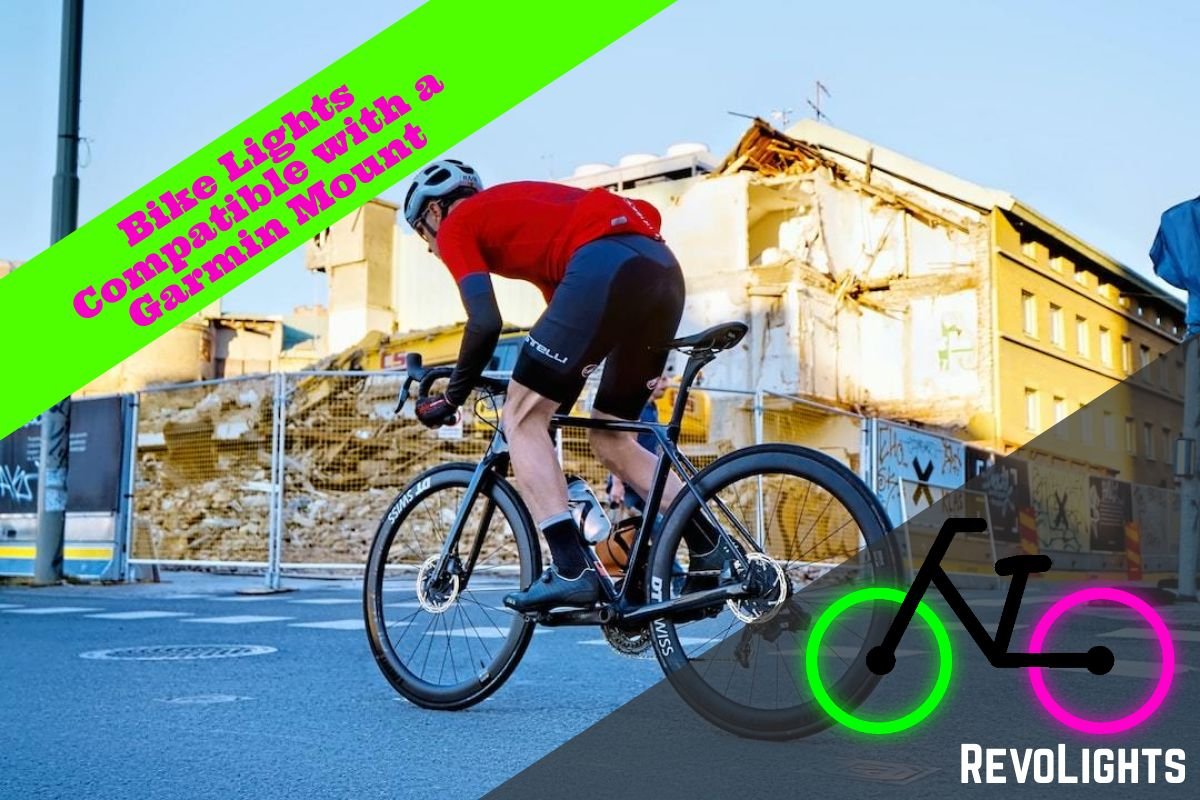 You still have your favorite specs with the newer Garmin Varia Bike Lights. Garmin informs us that our lights "need to be smarter, not brighter."
The Varia Smart Headlight
Enjoy the "smart" technology of the Varia headlight with features that include:
Smart technology that adjusts to changing lighting conditions to give you a safer riding experience
The headlight automatically projects the light further as you increase your cycling speed
Modes include high beam and low beam and auto beam
A beam cutoff prevents the headlight from blinding any oncoming drivers
It features manual on and off controls that allow you to use the headlight for your daytime rides
Comes with the universal out-front mount
Varia Smart Tail Light
The newer Varia smart tail light has several features that are the same or similar as the newer headlight models. Those of us who want a safe riding experience benefit from the quality of Varia. We benefit from a light that works independently and that "seamlessly integrates" with the compatible Edge cycling computers.
The other great features of the Varia Smart Tail Light include:
Make adjustments that include on and off options when you use the included remote
The tail lights warn approaching motorists that there is a cyclist ahead
Tail light automatically gets brighter or dimmer when you pair it with the light sensing Edge 1000
The tail light in-the-box items include seat post quarter turn mount and tail light multi-location quarter turn mount
Do you want extras? Buy the Varia Universal Seat Post Quarter Turn Mount. We like the new Garmin Varia Smart Lights because of the "smart" technology that allows us to enjoy our ride without having to worry about low-quality lights or low-quality features.
Garmin Varia Smart UT800 Light
The Garmin Varia Smart UT800 bike light offers several features that are common to other Garmin products. Some people prefer a light such as this model for a variety of reasons. One reason is because it pairs with certain Edge devices. It weighs just 4.6 ounces.
Enjoy these features, which include:
Provides automated brightness control which is based on ambient light
Match the light beam to your current speed and ride profile to save on battery life
The Cree LED provides a beam with 270 degrees visibility
IPX-7 waterproofing standards, which means it is fully submersible
Features five different lighting modes
We like that this light offers multiple mounting options, including mounting to your handlebar with the outfront mount or your helmet with a helmet or friction mount.
Magicshine Allty 1000 Daytime Running Light
The Allty 1000 Daytime Running Light is an all-in-one bike light design that allows you to experience the benefit of the always-on built-in safety LED for your daytime or nighttime bike ride. The company explains that it is a great road and commuter light and a great helmet light.
Some features that we like include:
1000 verified lumens with three steady modes and two flashing modes
The super high capacity 4000mAh 21700 Li-ion battery runs for 1.8 hours in the brightest steady mode or 12.5 hours using the lowest eco mode
It has a beam spread of 21 degrees
It uses the Garmin style base mount and comes with five straps
The company recommends that you buy the Garmin to GoPro adapter for an easy GoPro experience.
MagicShine RN 3000
Cycling News voted this bike light the "best front bike light for extended runtimes or maximum lumens." It features a 10,000 mAh battery, which allows for incredible runtimes. You do not have to give much thought to the quality of the light as you make your way around town, through your favorite trails, or any other landscape.
We like features such as:
Huge battery life makes it seem like the light can last forever
It has a lock function so that it does not turn on automatically
Power up to 3000 lumens or power down for a longer run time
Features bi-directional and fast charging USB-C charge port
The light comes with a standard Garmin mount with an included strap mount, and the available outfront mount
Moon MX GPS Mount and Light
A Cycling News contributor recently wrote an article on the "best budget bike lights." The Moon MX GPS Mount and Light was rated the "Best budget bike light for front mounting and emergency use."
Take note that the article points out that you probably do not want to consider this light as your primary bike light. You want to have this light when you spend a little longer on your bike ride and want to have enough light to get you back home. The 400 lumens max power and 2.6 hours burn time helps to make sure that you get there safely.
Consider these reasons for buying this bike light that is compatible with a Garmin mount:
Provides you with a budget-friendly way to make sure that you always have a light with you just in case you need it
Features USB-C charging connection
It has an adjustable beam angle
Mounting for Garmin computer on top